Armin Strom stuns with Mirrored Force and Configurator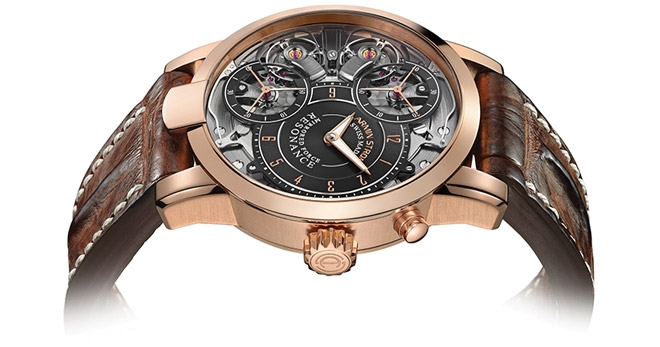 The maison of Armin Strom has once again managed to confound its aficionados with its innovative Mirrored Force Resonance. With the introduction of its Watch Configurator, which essentially allows for bespoke personalised luxury, the marque has also captured the hearts and imaginations of watch lovers
Armin Strom, who later went on to found his eponymous haute horlogerie brand, was born in 1938 in the Swiss canton of Bern. It was in 1967 that he set up his own workshop in the city of Burgdorf after undergoing training in watchmaking. His first masterpiece was a gold pocket watch with a hand-engraved movement and a dial made of polished blue lapis lazuli. By the 1990s, he had established his reputation as a watchmaker par excellence. In 1991, one of his creations – a woman's model entered the Guinness Book of Records as the smallest hand-skeletonised watch. Till date, it remains unsurpassed in style and size.
Today, Armin Strom prides itself on producing skeleton watches, watches with tourbillon, and watches with more than 8 days of power reserve. Armin Strom, which boasts its own Manufacture, has been producing its own in-house calibres since 2009. The marque's new and innovative Armin Strom movement architecture draws on the art of skeletonising, introduced by its founder in the eighties.
Mirrored Force Resonance
Two oscillating bodies in close proximity influence each other and eventually synchronise; this is a phenomenon of physics known as resonance. ARMIN STROM introduces the Mirrored Force Resonance, a resonating dual regulator developed for maximum precision with its whole captivating mechanism on full display dial side.
Resonance is a sophisticated and demanding horological technique that has rarely been attempted, let alone mastered. In the pursuit of horological accuracy, precision, and rate stability, resonance has generally involved utilising two independent mainsprings, gear trains, escapements, and balances – each connected by a rack and pinion to allow fine tuning of the distance between them. Precise adjustment of the distance between the two regulators is necessary to incite resonance, which sees the two balances finding a concurrent rhythm in opposite directions so as to continuously average out errors for maximum accuracy.
One body in motion relays its vibrations to its surroundings. When another body with a similar natural resonant frequency to the first receives these vibrations, it will absorb energy from the first and start vibrating at the same frequency in a sympathetic manner. The first body acts as the "exciter," while the second acts as the "resonator."
The phenomenon of synchronised motion in horology has fascinated watchmakers since the time of Christiaan Huygens (1629-1695). Huygens, inventor of the pendulum clock, was the first to discover the resonance of two separate pendulum clocks, which he logically surmised should keep slightly different time. When hung from a common beam, however, the pendulums of the adjacent clocks synchronised; subsequent researchers confirmed that the common wooden beam coupled the vibrations and created resonance. The two pendulums functioned as one in a synchronous manner. In the eighteenth century, Abraham-Louis Breguet demonstrated his mastery of the phenomenon with his double pendulum resonance clock.
The advantages of resonance are three-fold – A stabilising effect on timekeeping (advantageous to accuracy); a conservation of energy (think of a professional cyclist riding in the shadow of another cyclist in a racing situation); and a reduction of negative effects on timekeeping accuracy due to outside perturbation, such as shock to the balance staff, which in turn keeps the rate more stable and increases precision. The Mirrored Force Resonance comes in two editions: Water – in stainless steel; and Fire – in rose gold – limited to 50 pieces each.
Calibre ARF15
The resonant Calibre ARF15 is a classically constructed manually wound movement that was conceived, manufactured, assembled, and regulated in-house. It beats at a 3.5 Hertz (25,200 vph) frequency, allowing the observer to really appreciate the patented, resonant regulators in action. The movement is resolutely modern, with a novel, yet impeccably executed finish providing a roomy and stable stage for the real show: the symmetrical twin display of seconds that are bound by a single spring.
Armin Strom's innovative Watch Configurator: Bespoke luxury at its best
Luxury now is all about exclusivity and personalisation. With that in mind, Armin Strom now provides the opportunity for clients to create their own exclusive, luxurious wristwatches through its new Watch Configurator. Using the Watch Configurator, the client can – from the comfort of their own home – begin designing their watch by choosing the desired movement, whether it contains a tourbillon, a five-day power reserve, or any other functionality in Armin Strom's arsenal. Collectors can choose colours, engraving, and even skeletonisation of the movement and/or certain components, including case material, the style and colour of the dial and hands, the clasp, and the colour of the stitching on the chosen strap. All composition options are visible at a glance and the Watch Configurator calculates the total price as you go. Remarkably watches purchased through the Watch Configurator system are no more expensive than serial models made by Armin Strom.