BOMBERG launches Skully Rider collection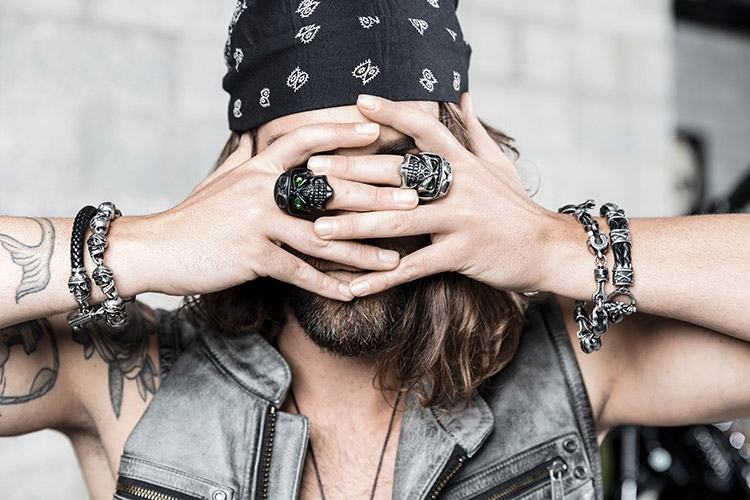 Bold and daring collection from BOMBERG features bracelets, rings, pendant, cufflinks, and more – all with a rebellious look from jewellery designer Cory Brindson
Unconventional Swiss watch and jewellery brand BOMBERG has announced its newest collaboration with the exceptional jewellery designer Cory Brindson who is as daring and bold as BOMBERG itself, and has created the newest Skully Rider bracelets, rings, new cufflinks, pendant, and a key chain for the Swiss watch and accessories brand.
Wearing the new jewellery collection is a sure-fire way to draw attention wherever one goes. The "Skully Rider" extended jewellery collection contains four different bracelets: The "Skully Rider Steel I" alternates Skully Rider heads and screw wrenches, both made of brushed steel PVD, in a daring combination. This model is available in small, medium, and large sizes.
The "Skully Rider Steel II" bracelet symbolises the essence of the collection with a successive representation of Skully Rider heads in brushed steel PVD, and also comes in three sizes.
The "Skully Rider Black", again in three sizes, is made of brushed steel PVD in all black and high-quality leather straps.
The "Skully Rider Leather and Steel" is a perfect mix between two materials that express perfectly the spirit of BOMBERG.
The innovative "Skull Rider Ring" comes with its eyes crafted of small Swarovski green crystal stones – a truly exclusive eye-catcher. The cufflinks, pendant, and key chains are also crafted with brushed steel as well as the Pendant.
Cory Brindson is the man behind the Chris Black Designs – a brand focused on tradition and details, as is BOMBERG. Brindson, who lives in Australia, was born in New Zealand from where he draws his inspirations. The indigenous Maori tribe is known for their exceptional artistic skills such as tattooing and hand carving, which has inspired Cory and instilled within him a respect for the nearly lost art of hand crafting jewellery. His pieces, which are moulded and crafted solely by hand, allow him to add character to each and every piece created by him. Brindson enjoys creating skull jewellery more than any other design theme.