BOMBERG'S collection celebrates Skull Riders and feminism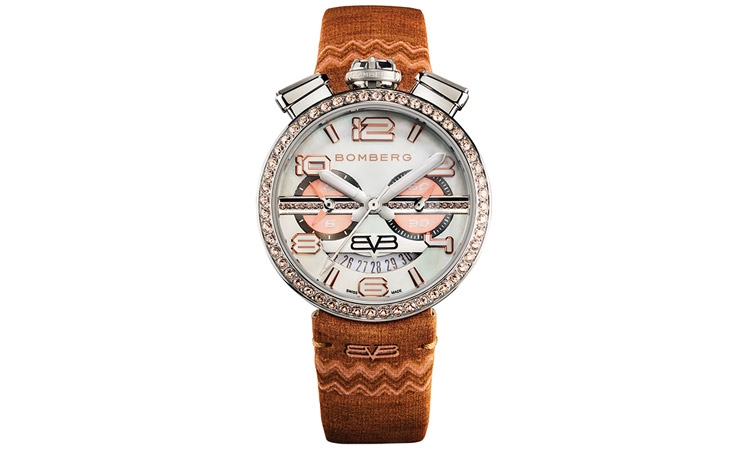 The bold and unconventional BOMBERG'S new collection once again manages to stun with its offerings; in twin firsts for the brand, their Fixed 1968 collection for Men and Women is not only a 'fixed' watch but also has choices for women
"Fixed" is the very first collection in the brand's history, which does not have the ability to become a pocket or table watch. Hence, the 1968 Collection represents a more traditional piece and introduces a new watchmaking mind-set to BOMBERG.
Fixed 1968
Inspired by the year 1968, an important year for all women in Europe as it saw a second wave of feminism emerge, the collection offers something for men and women alike.
The Fixed 1968 Ladies "Chrono" comes in three different colours – brown, blue, and purple. Its bezel is embedded with Swarovski Stones and the dial made out of the respective mother-of-pearl hue.
The new Fixed 1968 Men "Chrono" represents the masculine counterpart watch made of stainless steel primarily, and comes in six different colours and combinations: red, green, blue, silver, black, and full black. With a 45-mm dial, the watch offers the possibility of changing the strap to either silicon or leather to suit your mood. The bullhead position at twelve o'clock, iconic of BOMBERG, is now completely fixed.
The Fixed 1968 Ladies "Himalaya" is embedded with Swarovski Stones on the bezel, and comes in four catchy colours – black, pink, blue, and slate grey – and is equipped with a premium leather strap.
The Fixed 1968 Ladies "Indian Skull" is a true statement piece. It comes in three colours – two shades of brown, and one in blue jeans fabric. The dial is also made out of mother of pearl in either the corresponding colour shade for the brown and blue timepieces or a natural mother of pearl for the golden beige version. Swarovski Stones on the dial form an Indian Skull.
Bolt-68 Skull Pearl
The Bolt-68 Quartz "Skull Pearl" 45mm is inspired by the Huichol art, which is personal and captivating with complex designs, vibrant colours, and sacred symbols. The watch houses a Swiss-made Ronda quartz movement in a black PVD 45 mm gadroons case finishing, with three references in different colours.
Bolt-68 Automatic Skull Rider
Available in three limited editions – "Blackheart", "Hellgold", and "Eternity Blue" – the Bolt-68 Automatic "Skull Rider" is endowed with night vision elements: the eyes, watch hands or numbers on the dial as well as the BOMBERG branding glow in the dark.