BUBEN&ZORWEG unfurls new technological masterpieces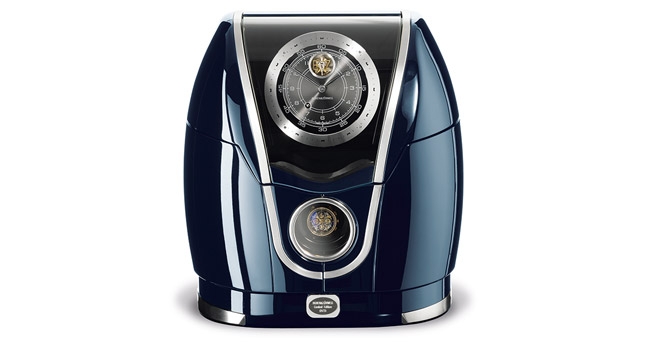 With over twenty years in serving the luxury industry, the highly distinguished company BUBEN&ZORWEG continues to find new innovative solutions for its discerning clients. This 2016, the House of BUBEN&ZORWEG adds its latest works of art to its growing portfolio of extravagant and stylish collections
Moving forward to its third decade in the global luxury business, BUBEN&ZORWEG continues to enthrall passionate watch connoisseurs with high quality collections that can safeguard the most treasured possessions. With a focus on sleek, head-turning design and cutting edge technology, BUBEN&ZORWEG creates bespoke objects and interiors to showcase watches, jewellery and collectibles in private residences, on yachts and in palaces round the world, in contemporary, traditional and royal settings.
From launching the luxuriously crafted watch winders, designed to encase and care for self-winding watches, the founders Harald Buben and Christian Zörweg, best friends since childhood, with the help of Daniel Zörweg, Christian's brother who became a shareholder, had grown the company into a burgeoning luxury empire with a manufactory in the heart of Germany's engineering region near Stuttgart.
Today, it spans globally in over 100 countries with seven standalone boutiques and over 25 in-shop boutiques, has collaborated with Aston Martin and counts heads of state, royals, athletes and Hollywood stars amongst its loyal clients. BUBEN&ZORWEG also craft collectibles of their own, with a sought-after repertoire including magnificent limited edition tourbillon clocks crafted in the BUBEN&ZORWEG atelier d'horlogerie.
This year, the House of BUBEN&ZORWEG presents new ranges of its masterpieces that highlight its passion for innovative creation and compelling designs. With sheer perfection, the stunning creations unveiled at Baselworld 2016 flaunt seemingly perfect craftsmanship like any work of art.
Galaxy Lady
Perfect for the stylish and independent woman, BUBEN&ZORWEG dedicates its latest luxury reveal, Galaxy Lady, as a luxurious way of expressing its respect for the woman of today. Unique with its natural feminine flair, the innovative masterpieces boasts its features including the perfectly hand-sewn elegant Italian Nappa leather in a crocodile embossment, mother-of-pearl inlays in the lid and finest burgundy velour as well as harmonising hues and accuracy in the details. With four different versions, it comes with Pearl White lacquer / leather, Black Stardust lacquer / leather, Black Stardust lacquer / Macassar and Black Stardust lacquer / Burlwood.Its finest German craftsmanship is also visible with the presence of the German electronic locking system, handcrafted housing with folding doors, hand-polished stainless steel handles "Lady-Butterfly", state-of-the-art LED lighting with fading technology and Swiss security lock. The Galaxy Lady is also in offer with BUBEN&ZORWEG Alarm System and BUBEN&ZORWEG Tracking System.
Orion
Through the years, BUBEN&ZORWEG has put great attention in crafting stylish safes that are unique, innovative and mostly does not appear like a strong box. This year, it adds another compelling example to its luxurious vision with the launch of the ORION. Featuring an exterior made of the finest Italian Nappa leather, elegantly stitched with ornamental seams, this new safe surrounds state of the art security technology. ORION comes in three versions of exterior Nappa leather: Blue with inside drawer in Ebony Grigio, Cream with inside drawer in Nappa cream, and black with inside drawer in Ebony Grigio. All these versions present the perfect finish like any BUBEN&ZORWEG masterpiece including the stainless steel lid polished with sleek interior in the finest black velour, leather inlay with BUBEN&ZORWEG initials, German electronic locking system, and state-of-the-art LED lighting with fading technology. Optionally available with BUBEN&ZORWEG Alarm System and BUBEN&ZORWEG Tracking System, ORION is offered in four sizes: ORION S (with Safe SI-60), ORION (with Safe SI-80), ORION XL (with Safe SI-110) and ORION XXL (with Safe SI-150).
BESPOKE LINE
With the new BESPOKE LINE, BUBEN&ZORWEG enables customers and collectors all around the world to take possession of their very own customised masterpiece without any additional expenditure of time or effort. In this distinctive service, clients are provided with a selection of fascinating, shimmering, high-gloss lacquer finishes, ranging from the elegantly sophisticated to the strikingly powerful, shortens the journey of determining colour. When it comes to choosing the materials, individual preferences are met by the BUBEN&ZORWEG design experts with a bandwidth of finest leathers that enables the owner to adapt his future masterpiece to a specific ambience and his own personal style. Be it the array of fine leathers, the high-quality finishes on fine timbers or the high-tech materials skillfully integrated into the design, the number of possibilities becomes virtually endless, once the customer starts contributing his own input and creative ideas.With a focus on luxury and customisation, the BESPOKE LINE represents a fascinating opportunity to transform a number of BUBEN&ZORWEG unique masterpieces into a one-of-a-kind personalised piece in considerably shorter time.
GRANDE PRIVATE MUSEUM
The GRANDE PRIVATE MUSEUM from the House of BUBEN&ZORWEG offers the watch aficionados the combined benefit of safeguarding the treasures in a luxurious and stylish trove. Featuring high security glass, which is 22 mm thick, bullet-proof and extreme resistant against mechanical attacks and a 2.5 mm stainless steel security compartment, this range also flaunts an aesthetic beauty of wood housing with 10 layers of high-gloss lacquer and sleek interior in the finest black velour.Its safety attributes continue through the German VdS certified biometric fingerprint locking system developed for high-security safes, the Integrated Laser curtain that prevents unauthorized access in open condition, an inbuilt alarm system with interface to the house alarm system, a vertical, electromechanical opening and closing mechanism which showcases German industrial standard, an automatic, time controlled locking function, state-of-the-art adjustable LED lighting technology with fading function, and a storage compartment in lower part of wooden doors with glass inlays in the lower part. Available in two versions of Macassar high-gloss and Ebony Grigio high-gloss exterior, the GRANDE PRIVATE MUSEUM can also come with options of bespoke interior, two-way mirror glass and humidor.