Chopard presents Valentine's Day collection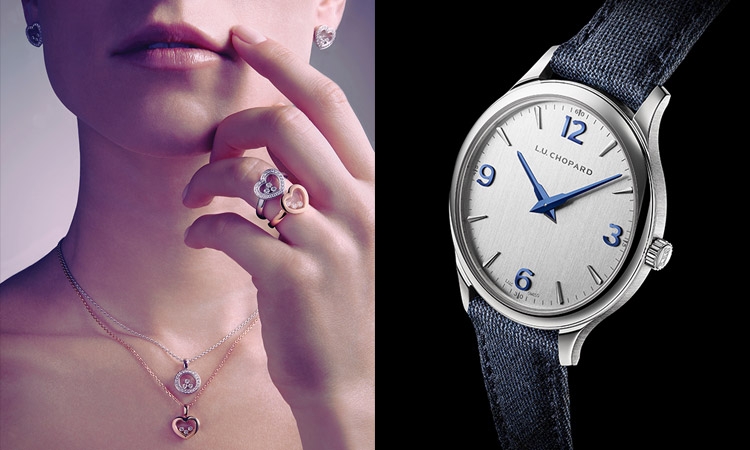 Haute joaillerie and horlogerie marque Chopard is back with a wonderful collection for the festival of romance – Valentine's Day – that is sure to delight its aficionados. "Day & Night" magazine brings you a sneak peek at the collection, which has something for everyone
If there is one particular celebration especially cherished by Chopard, it is of course Valentine's Day. Having made the heart its emblem, the jeweller is a past master in expressing this shape generally associated with amorous feelings through its jewellery creations. In doing so, it becomes a messenger of the finest declarations of love.
Caroline Scheufele's attachment to the heart, especially a big heart, has special meaning, as she associates it with family. A strong united family is indeed the guiding thread behind the Swiss Maison founded by Louis-Ulysse Chopard and bought in 1963 by Karl Scheufele, who has forged the prosperity of this family business with the ardent support of his wife Karin and his two children Caroline and Karl-Friedrich, who now serve as Co-Presidents. A family united by its feelings which represents the beating heart of its Geneva-based Manufacture. For Valentine's Day, Chopard offers a selection of its signature creations, naturally paying special attention to the heart.
Happy Diamonds
What could be more appropriate for declaring one's love than a lively dance of moving diamonds, whose fresh charm and freedom of movement are fascinating reminders of the whirl of emotions and the lightness of hearts beating ever faster? Crafted in 18-carat rose or white gold, polished or set with diamonds, the Happy Diamonds Icons collection offers a selection of rings, bracelets, pendants, and earrings featuring three moving diamonds. Fine jewellery creations that can be worn singly, or stacked as the mood takes you – similar to the many tokens of life. For a fiancée or a long-cherished wife, as well as a daughter, sister or friend, the hearts in the Happy Diamonds collection are the perfect gift for testifying the strength of your feelings.
Happy Sport
A heritage of simplicity and a penchant for fantasy: such is the spirit of the Happy Sport watch. Surfing the trend for interchangeability and personalisation, the new version gives women the possibility of changing their own strap at home whenever they feel like it. Black and white – the go-to essentials – are the two strap colours delivered with the watch; and each season, Chopard unveils new ephemeral colours in tune with the times.
Teamed with a steel or pink gold and steel case measuring 36 mm in diameter or 30 mm for the daintier wrist, the rubber strap is a reminder that mixing and matching materials are the very heart of the playful, liberated Happy Sport identity.
Happy Hearts
Happy Hearts are slender white or rose gold jewellery models featuring large hearts, either cut-out or incrusted with brightly coloured stones, along with tiny hearts housing moving diamonds. The supple flow of the jewellery, together with the mobile nature of the diamonds, creates an exquisitely feminine jewellery line radiating a singular aura of chic elegance. Distinguished by the omnipresent heart theme, Happy Hearts reflect the infinitely generous soul of the big-hearted women who wear them.
Composed of a sautoir necklace, a pendant, earrings, bracelets, and rings, the collection now welcomes a new variation in 18-carat rose gold set with delicately powder pink hearts – an additional shade gracefully matching the colourful range already available within the collection. A means of playing the stacking game, combining colours in tune with any given mood, these tokens of gratitude are intended for women who are deeply admired.
High Jewellery
Among the latest creations to emerge from its High Jewellery ateliers, Chopard has selected a radiant 10.4-carat heart-shaped rubellite. Known for its nuances ranging from bright pink to purple, the exceptional colour of the rubellite has earned it a reputation as a symbol of passion and voluptuousness. Set on a ring atop a matching circle of pink diamonds, and surrounded by elegant marquise- and brilliant-cut diamonds, it glows with the fire of enduring passion.
L.U.C XP
A steel case, a silver-toned vertical satin-brushed dial with wide blued numerals, a blue cashmere strap: the new L.U.C XP is the gift chosen by Chopard to satisfy men known for their casual elegance. This timepiece equipped with an original ultra-thin self-winding movement – Calibre 96.43-L with tungsten micro-rotor and double-barrel Twin technology, entirely developed and crafted in the workshops of Chopard Manufacture in Fleurier – embodies an ideal blend of modernity and reliability.
A finely vertical satin-brushed silver-toned dial is accentuated with slender applied hour-markers. Broad blued numerals are swept over by equally blue Dauphine fusée-type hands. The new face of the L.U.C XP is the epitome of graphic restraint. The 40 mm case is made of stainless steel, a sturdy yet easy-wear material. It is fitted with a blue cashmere woven strap lined with brown alligator leather, a first for the L.U.C collection. To provide pleasurably varied options, the L.U.C XP may also be teamed with a blue alligator leather strap.
The L.U.C XP models house a movement comprising two stacked barrels (patented Twin® technology) guaranteeing a 58-hour power reserve. Accommodating such a self-winding movement within an ultra-thin 7.20 mm case is a technical feat made possible by an ingenious micro-rotor construction ensuring greater visibility of the movement. The latter is made of tungsten, a sturdy high-density material enabling enhanced movement winding. Finally, the choice of black engravings, visible through the exhibition case-back, sets the perfect finishing touch to a thoroughly modern and reliable watch.  Perfectly suited to every occasion, the L.U.C XP flouts Haute Horlogerie conventions and flaunts its own character as a must-have accessory for any masculine wardrobe.
Accessories
Aestheticians are keenly aware that the beauty of the objects surrounding us in daily life constitutes an exceptional environment, an authentic quality of life. In this respect, the Maison Chopard is a past master in the art of designing and creating unique living spaces through a range of finely made accessories. For women, Chopard offers a collection of leather goods made from the highest quality calfskin. Two shoulder bags echo the aesthetic codes of the jewellery lines and extend their universe. Men are not neglected; an understated and elegant red-stitched anthracite grey leather wallet is on offer.