HYT celebrates life and time with Skull Vida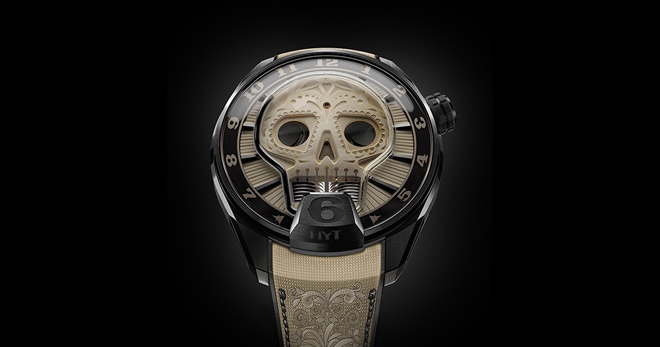 In its most restricted limited edition ever, each of HYT's "Skull Vida" timepieces features mammoth ivory from many millennia ago as its centrepiece
Releasing only five pieces of the Skull Vida, HYT prefers to call them five unique pieces rather than a limited edition. This is because each timepiece is different as they call on living material in a real watchmaking first: mammoth ivory from many millennia ago.
Today, in the Siberian plains, mammoth skeletons are beginning to surface. The majority are exceptionally well-preserved as they have been held captive in ice for 15,000 to 30,000 years. Their bones have been preserved, but are far from inert; they are almost alive, reacting to their exhumation like the living witnesses of a past when they walked alongside the Neanderthal man. These remnants of the past come from an extinct species, thereby protecting modern wildlife, which HYT is committed to conserving.
The Skull Vida comes in a 51 mm black DLC titanium case with polished, micro-blasted, and satin-finished finishes. It is powered by HYT's exclusive mechanical hand-wound movement that provides a 65-hour power reserve. Its dial is shaped like a skull and is crafted from Siberian mammoth ivory. This living material had to undergo a stabilisation phase over the course of several months.
It was sculpted and embedded in the Skull Vida thanks to a series of particularly delicate operations carried out by specially trained artisans. Each dial is completely unique and offers different textures, variations, and designs. HYT's Skull was entirely redesigned to highlight the properties of the mammoth ivory as much as possible.
The seconds are displayed in its left eye, the power reserve in its right. The entire artwork is surrounded by an HYT capillary specially folded into the skull shape, in which the separation point of two immiscible liquids indicates the hours. The bezel indicates the result on a black background, with Arabic numerals in a font specially created for the Skull Vida. It is also the first time that HYT has developed a fabric-based strap, which features fine embroidery in an abundant floral theme – a symbol of life.