Keeping time safe with BUBEN&ZORWEG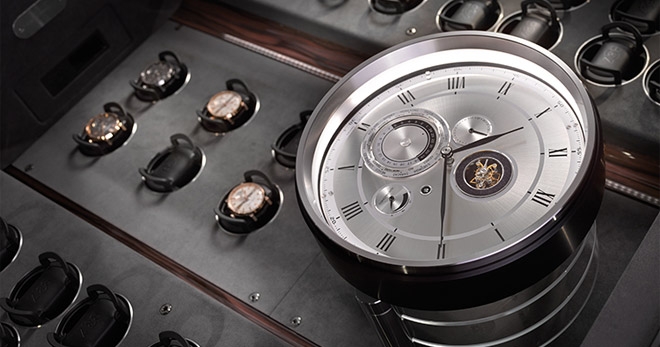 Burgeoning luxury empire, BUBEN&ZORWEG, which has been present in the global luxury business for more than two decades, specialises in luxuriously crafted watch winders, designed to encase and care for self-winding watches. While best friends Harald Buben and Christian Zörweg launched the company in 1995 when still students, it was only in 2004 that Daniel Zörweg, Christian's brother, became a shareholder of the brand and was charged with the responsibility of the clock and watch atelier.
From a luxury safe constructed to house a collection of up to 100 fine watches, which also serves as a humidor, weather station, and music system, to an elaborate Object of Time watch wardrobe incorporating the latest watch-winding technology, BUBEN&ZORWEG creations enable passionate watch lovers to savour and safeguard their most treasured possessions. The marque also crafts collectibles of its own, with a sought-after repertoire including magnificent limited edition tourbillon clocks crafted in their atelier d'horlogerie.
BUBEN&ZORWEG Art Safes – Private Museum
The Private Museum offers the ambitious art collector fascinating new options for protecting and simultaneously presenting valuable artefacts. Internationally renowned artist Burigude Zhang, a lecturer in Beijing since 2017, has designed a BUBEN&ZORWEG safe – he references Tao Chi, according to whom a single stroke of a paintbrush bears within it the origin of all that exists. The safe will be auctioned at the Art Beijing exhibition, with the sale proceeds going to the non-profit Green China, which plants trees as a natural barrier against air pollution.
Illusion
The Illusion range brings a fascinatingly simple security solution to the office, changing room, or bedroom. The safe is unlocked by way of a fingerprint or a transponder chip and immediately raises its contents elegantly upwards. BUBEN&ZORWEG's passion for innovative design finds expression in many details – such as the drawers that pivot outwards to the side to present an overview of their contents – and the Table Safe with two or four Time Mover modules.
A weight of 40 kg speaks for the massive steel body that can also be fixed securely to its location. The Illusion Object of Time stands as a representative pillar, an attractive eye-catcher next to the table. This masterpiece of refined craftsmanship boasts sufficient space for 12 Time Mover modules or five drawers. Illusion is available in four versions: black Nappa leather; brown Nappa leather; black Nappa leather or Alcantara; and blue Alcantara.
Illusion Deluxe
The Illusion Deluxe has an Integrated BUBEN&ZORWEG signature clock with a stainless steel bezel and is a limited edition of 75 pieces.
Grande Illusion
Crafted of high resistant stainless steel with a unique inbuilt elevating mechanism, it houses a Time Mover for 4 watches and 6 drawers (other options are available). It is also available with the BUBEN&ZORWEG Alarm System, and comes in three versions: black Nappa leather; brown Nappa leather; and black Nappa leather or Alcantara.
Grand Collector Inbuilt Slide and Hide
It is a unique experience to see the heavy, single-piece glass door of the Grand Collector Inbuilt Slide and Hide withdraw elegantly into its beautiful oak housing. The innovative solution based on the development of new stainless steel hinges presents unrestricted access to the treasures concealed within. Nothing stands in the line of sight when it is open. When it is closed, the new door appears as an uninterrupted mirror surface and gives no indication as to what lies behind it – an additional security aspect of sophisticated design.
The Slide and Hide houses a Time Mover for 26 watches (8 of them in the safe); a BUBEN&ZORWEG Safe SI-80; and a BUBEN&ZORWEG signature clock with a stainless steel bezel, in addition to 2 storage drawers (Gentleman insert and universal drawer). It is also available with the additional options of the BUBEN&ZORWEG Alarm System and the BUBEN&ZORWEG Tracking System.
Collector 36 / 45
The passion for luxurious automatic watches is what makes collections grow – the new models of the Collector family therefore justifiably offer room for a few more precious items: 36 or 45 Time Mover modules to safeguard and preserve the value of sensitive calibres that demand to be moved. The elegant interior in fine velours and Italian Nappa leather befits the values that the Collector 36/45 safeguards. It can be equipped with an alarm and/or GPS tracking system on request. A Hi-Fi system with Bluetooth streaming can also be integrated to provide musical accompaniment for the enjoyment gained from devoting time to the collection of treasures. The Collector is available in two versions: Macassar high gloss or Ebony Grigio high gloss.
Galaxy Deluxe
The "core competence" of a safe is to keep objects safe over time. The safes of the Galaxy range fulfill this task with the seal of approval of certified German security technology. Like virtually every safe from BUBEN&ZORWEG, the Galaxy is a fascinating eye-catcher in any luxurious interior – a veritable Object of Time further developed to include a Fine Timepiece. Superior high-gloss lacquers, shimmering exotic woods and hand-sewn Italian Nappa leather lend this masterpiece of perfect craftsmanship its characteristic features – crowned by the BUBEN&ZORWEG signature movement that anchors persisting values in the flow of time. Optionally available with BUBEN&ZORWEG Alarm System and with BUBEN&ZORWEG Tracking System, the Galaxy Deluxe is available in two versions: Macassar high gloss and Burlwood high gloss.
Guardian
There is so much more to the Guardian than the elegance of its classic design reveals at first sight. The first surprise comes when the innovative LED light system makes the two-way mirror glass door – made of 8 mm thick safety glass – fully transparent to reveal an impressive collection of precious watches stylishly presented on value-preserving Time Mover units. Many aspects of the Guardian are defined by its respective owner – the design of the housing, for instance in elegant Macassar or an impressive carbon fibre look, or the new SI-40 safe and presentation table as optional extras. The Guardian, which comes with its own table, is available with the optional additions of the BUBEN&ZORWEG Alarm System and the BUBEN&ZORWEG Tracking System.
Solitaire Vision
A fascinating timepiece enclosed in a shimmering stainless steel bezel is a striking feature in the otherwise unadorned elegance of the impressive Solitaire Vision. Its inner values are protected by bullet-proof spy glass that allows an insight as soon as the sophisticated LED lighting system is activated. 46 Time Mover modules hold exclusive automatic watches, some of them in the integrated BUBEN&ZORWEG SI-60 safe. And because spending time with special treasures is so enjoyable, a humidor, module, and integrated Hi-Fi system all serve to enhance the enjoyment of refined pleasures – be it alone or in pleasant company. Optionally available with a Humidor that utilises a German electronic humidifying system or a BUBEN&ZORWEG Tracking System, Solitaire Vision houses a Fine Timepiece World Time Tourbillon.