MB&F and Caran d'Ache's space odyssey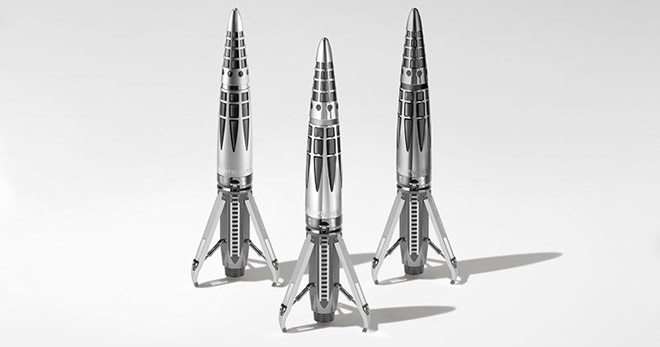 A creative odyssey shaped by astronautical dreams, the Astrograph writing instrument is the result of a dynamic partnership between Maison Caran d'Ache and MB&F
Projecting his dreams of conquering space onto a writing instrument was the idea of Maximilian Büsser, the founder of MB&F. The creativity and technical expertise of Caran d'Ache and MB&F resulted in the Astrograph, which embodies the common values of both Maisons: limitless creativity, respect for traditions, impeccable quality, and Swiss Made.
The Astrograph adventure began four years earlier, when Büsser revealed his idea of combining his childhood dreams of travelling in space with a writing instrument to Caran d'Ache's creative team.
Four years were needed to perfect the technical concept – resulting in a futuristic design comprising a multitude of innovative features with a total of 99 components. These include a "detent" system of vertical stabilisation, a launch pad box, and a magnetic figurine. It took a year to develop the final model, and more than 500 manual operations to produce each writing instrument.
Reminiscent of a space rocket, the slim, curved body of the Astrograph hides a miniature lever – the entry door to the rocket – concealed in the ring of the pen that activates the simultaneous and symmetrical lowering of three legs.
These, just like the miniature ladder than runs alongside the "thruster engines" have parts that are sandblasted, satin-finished and rhodium-plated. Once the stabiliser legs have been deployed, it is possible to stand the Astrograph up, ready for take-off.
The Astrograph rocket also comes with a miniature figurine of an astronaut. Rhodium-plated and magnetised, it can be attached to any part of the pen, ready to "climb on board". Continuing the space-rocket theme, a presentation box in the form of a launch pad has been specially devised for Astrograph.  Circular in shape, the box is fitted with three articulated legs and can either house the pen inside or display it outside as a rocket ready to launch.
The instrument unscrews to reveal a fountain pen inside the fuselage. At this point, the Astrograph's tactile dimension takes on its full significance as the rhodium-plated 18-carat gold nib glides across the paper.
The Astrograph is available in three finishes: High gloss rhodium finish, available as a fountain pen; Sandblasted matt rhodium finish, available as a fountain pen or roller pen; Ruthenium anthracite finish, available as a fountain pen.
In homage to the 99 new components specially developed for the Astrograph limited edition, 99 fountain pens and roller pens are numbered as "1 in 99 pieces". While the fountain pen is fitted with an ink pump, it can also be used with cartridges. The pen nib is of rhodium-plated 18-carat gold, available in size M, with other nib sizes available on request. The roller pen is fitted with a Caran d'Ache roller pen cartridge.
Truly avant-garde in concept, the Astrograph is a worthy product of two Maisons famed for their artistic virtuosity and pioneering concepts.