New Green Carpet creations from Chopard and Gemfields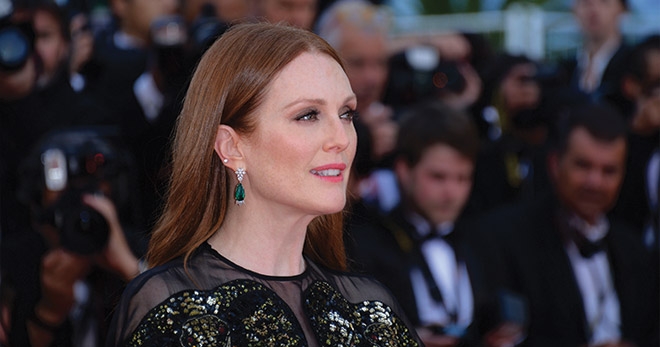 Leading high jewellery brand Chopard unveiled two stunning new pieces in its Green Carpet Collection of High Jewellery at the Venice Film Festival 2016
Debuted at the opening ceremony of the Mostra by Gemma Arterton and Bianca Balti, the incredible statement earrings; along with an exquisite necklace, intricately laced with diamonds; and a spectacular emerald pear-shaped pendant of 22cts, are crafted in Fairmined certified gold and feature responsibly sourced emeralds from Gemfields and diamonds sourced from a diamond supplier certified to the RJC Code of Practices.
Launched in 2013 in partnership with Eco-Age, The Journey to Sustainable Luxury is Chopard's commitment to sourcing responsibly and helping the real people, who are all too often overlooked, in its supply chain. An exciting and ambitious multi-year programme, it has now delivered global market leadership and differentiation from competitors.
This year at the Cannes Film Festival, Chopard announced its next significant stage in the journey with a partnership with Gemfields. By partnering with Gemfields, Chopard is setting an example of best practice in the mining of coloured gemstones, demonstrating leadership in the forging of industry alliances and continues to support local communities in the most remote regions where these extremely rare raw materials are mined.
To celebrate the beginning of this new phase of the journey, Chopard unveiled a capsule collection of Green Carpet High Jewellery within its Red Carpet Collection at the Cannes Film Festival in May and included responsibly sourced emeralds in Chopard's Green Carpet Collection for the very first time.
These beautiful Green Carpet creations were debuted on the famous red carpet by Julianne Moore. Julianne, who has walked the Green Carpet Challenge before, wore the incredible statement earrings along with a ring, both crafted in Fairmined certified gold and featuring the validated emeralds from Gemfields and diamonds sourced from the IGC group, which is certified by the RJC Code of Practices.
Chopard continues to strengthen this relationship as it launches new Green Carpet creations of High Jewellery at the Venice Film Festival 2016. The incredible new pieces feature responsibly sourced emeralds, showcasing the marriage of ethics and aesthetics.
The Journey to Sustainable Luxury
The Journey began with a world-first that saw Chopard forge a philanthropic relationship with the influential South American mining NGO, the Alliance for Responsible Mining (ARM). Chopard became the world's first watch and luxury jewellery company to support and enable gold mining communities to reach Fairmined certification and provide training, social welfare and environmental support. To date, two mines in Latin America (in Colombia and Bolivia) have now achieved Fairmined certification through Chopard's direct support.
It was in May 2013 at the Cannes Film Festival that Chopard first unveiled its first Green Collection creations – a delicate cuff bracelet and matching earrings set in Fairmined gold that used diamonds from RJC-certified suppliers. French actress Marion Cotillard wore the exquisite jewellery on the red carpet.
Over the last three years, Chopard has continued to build on its promise, achieving a number of landmark steps including: creating the incredible Green Carpet Collection of High Jewellery using only sustainably sourced and traceable precious materials; the Palme Verte Collection, the first diffusion line in Fairmined gold; the world's first watches in Fairmined gold in the L.U.C Collection; not forgetting the iconic Palme d'Or which has been crafted from Fairmined gold since 2014.
All Chopard's pieces of High Jewellery are lovingly crafted by artisans in its workshops in Geneva. Gemfield's Kagem mine in Zambia is the first to be assessed against Eco-Age's Green Carpet Challenge (GCC) Principles of Sustainable Excellence. Eco-Age – an expert in sustainability for global brands as well as sustainable mining practices and Chopard's partner in developing the Journey to Sustainable Luxury – used its GCC Principles of Sustainable Excellence to assess the mining site, covering social welfare, environmental protection, training provision and security for workers.
Gemfields is one of the world's leading suppliers of coloured gemstones, specialising in emeralds and amethysts from Zambia and rubies from Mozambique. The company oversees the mining and marketing of coloured gemstones from some of the world's finest gemstones deposits, responsibly and transparently.
Working in countries with mining is a real challenge that Gemfields recognises and works to create a long-term, sustainable, integrity-driven operation, not just for company but also for countries and communities impacted. As it develops its strategy, its aim is to be recognised as a business that operates to international and best practice standards and transparently communicates on a variety of contextual yet prioritised issues.