Richard Mille leads at Chantilly Arts et Elegance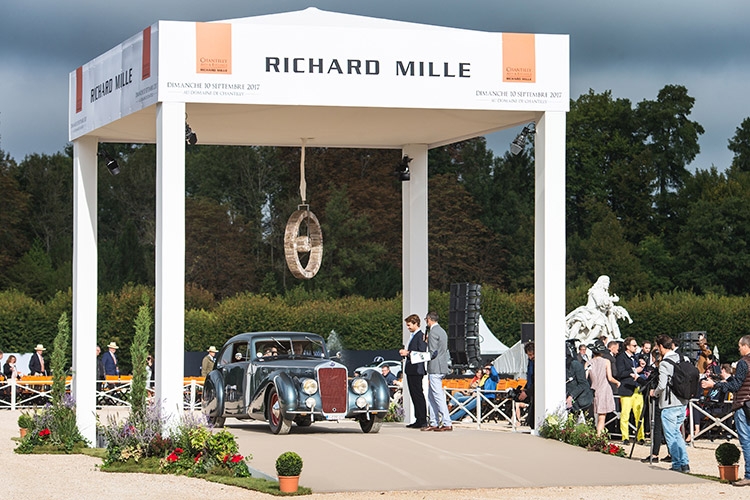 Living up to its name, the Chantilly Arts et Elegance Richard Mille 2017 was a veritable showcase of stunning artwork, elegant examples of automobiles from the 1930s, supercars, and electric cars, while also celebrating Ferrari's 70th anniversary
Art-lovers were thrilled with the kick-off to this year's gathering at the Château de Chantilly, held on September 9-10: the inauguration of an exhibition dedicated to Poussin's world-famous painting "Le Massacre des Innocents".
In front of the château, they were treated to a stunning mise en scène of Dali's "Metamorphosis of Narcissus", and inside the Museum itself the highlight was a moving rendition of "Hallelujah" in front of Picasso's "Charnier". The work, one of the many inspired by Poussin's original, had been brought back specially to Chantilly, with Richard Mille's support, from the Museum of Modern Art in New York.
The 4th edition of the world-class automobile contest, attracted more than 16,000 visitors, a 20 per cent increase. 90 classic cars competed in the Concours d'Etat and close to 800 in the Grand Prix des Clubs.
Saturday's first rally brought together vehicles entered in the Concours d'Etat, while the second consisted of similarly rare – but much sportier – supercars. McLaren provided a fascinating introduction to its range on the challenging Mortefontaine circuit.
On display were the most famous electric cars in automobile history, from 1899 to the present: the renowned Jamais-Contente from 1899, the first vehicle ever to clear 100 km/hr, and the avant-garde Porsche Mission E, boasting 600 hp and a 500-km range.
Ferrari's 70th anniversary was fêted with a display of around 30 of its creations that had participated in Le Mans 24 Hours. The legendary Ferrari 250 Testa Rossa, a 250 GTO, the 330 P4, 312 P, and 512 S Spyder were some of the cars lined up on the lawns designed by Le Nôtre.
Eminent Richard Mille partners such as Mutaz Barshim, Felipe Massa, Romain Grosjean, Jean Todt, Jessica von Bredow-Werndl, and Alain Prost attended, as did Didier Drogba, Eric Boullier, and Frédéric Sausset.
The Richard Mille Concours d'Élégance prizes were awarded to the Renault Trezor – an electric-drive sport coupe GT – and the Citroën CXperience, and Yang Li. The prize for Best of Show was conferred on the unbelievable Bugatti 57 S Atlantic (1936) in the Pre-War class, and the Ferrari 250 Testa Rossa (1958) in the Post-War category.