Bejewelled dreams from Palmiero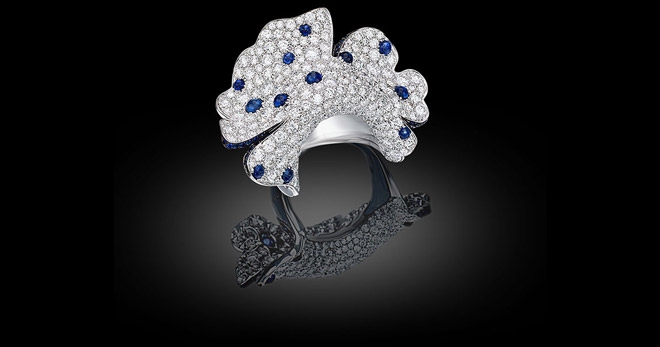 Palmiero's creations are haute couture jewels that are conceived in intense and exuberant tonalities and "arlecchino" or shaded effects, creating splendid optical illusions. "Day & Night" magazine brings you a curated selection of the maison's 2017 offerings – "Jewels Born out of Dreams" collection
Carlo Palmiero, founder of Palmiero Jewellery Design, represents the artistic avant-garde in haute joaillerie. Growing up in the 1960s in Valenza, a small town of Piedmont, famous for its goldsmith tradition, Carlo Palmiero was inevitably influenced by this art and had the opportunity to enter artisanal laboratories and work together with the greatest experts of the field from a young age.
The first jewels initially made in the small laboratory were objects characterised by small dimensions but strong creativity. Carlo Palmiero bucked the current trend and modified the standards of classical jewellery (which in those years mostly referred to solitaire, contrarié, or important centres surrounded by diamonds) by moving the attention from the "centre" to the whole object; he dilated the shapes and expanded them to draw attention to the whole jewel surface. His rings become 360° sculptures, including the shank, which now had the role of the protagonist and not just a simple stand – three-dimensional sculptures enriched by the unique colours and shades of the gemstones used.
The brand became an immediate success. Nowadays, Carlo Palmiero, together with his team, conceives his fantastic and fascinating creations in the modern laboratory-atelier inaugurated in Valenza in 2007. Palmiero jewels are unique and inimitable objects, characterised by a refined, pliant, unmistakable style – ideas translated into shapes and colours that show incredible creativity and exquisite craftsmanship, they are recognisable at first glance. Palmiero's collections stem from a jewellery tradition that for years has produced a limited number of pieces, sometimes even unique pieces.
Inspired by geometric shapes, nature, and artistic references to the style of great 20th Century painters, genius, skill, and passion shine through each piece crafted by Palmiero. Creations by Carlo Palmiero go beyond design and find their completeness in the precious stones whose pureness and quality make them unique: white, black, cognac, blue, green, yellow, and purple diamonds; sapphires that fade gently like blue, pink, and yellow water colours; royal topazes; tanzanites; rubellites; and opals – all become precious timeless objects, characterised by a style that is a flawless union of the past and the present.
Palmiero's creations are haute couture jewels that communicate through the language of sculpture and art – the diamond pavé and gemstones become the protagonists, a real raison d'être. They are conceived in intense and exuberant tonalities and "arlecchino" or shaded effects, creating splendid optical illusions. Nor does the medium of gold escape the virtuosities of the creator, who drapes it, curves it, undulates it, and "domesticates" it to his inspiration by crossing the evanescent borders between craft and art.
The marque has now presented its new offerings for the year, which include the Lotus Flowers Collection, the Acanto Acanthus Collection, the Colibri Animals Collection, the Masterpieces Captured Stones Collection, and the Soft Flowers Collection.
Haute Joaillerie
Lotus Flowers Collection
Precious jewels, whose soft and delicate shapes are inspired by the lotus flower, result in creations that are malleable, with a three-dimensional effect, and wonderful colours and shades that exhibit an amazing attention to details.
Acanto Acanthus Collection
In the language of flowers, the acanthus represents prestige and material wealth. Highly appreciated for its beauty during the Classical period, the acanthus leaf was used in architecture and as ornaments made of stone, marble, or wood to embellish people's outfits. Carlo Palmiero, appreciating its beauty and elegance, has been inspired by the ancient ideals of aesthetics to present the acanthus as the protagonist of his new collection.
Colibri Animals Collection
Small dreamy birds, fragments of rainbows, precious stones that are presented as flowers and animals form the nucleus of the Colibri collection, where the hummingbird takes centre stage and is described in different ways. Palmiero's Colibri Collection depicts a scene that seems to be directly taken from its creator's dreams to weave light and magic into an ornament to wear.
Masterpieces – Captured Stones Collection
A leaf goblet in degraded diamond pavé setting surrounds, sustains, and enhances the beauty of the precious central stone. An intense magnificent tanzanite is framed with the most precious white diamonds to create a bejeweled masterpiece.
Soft Flowers Collection
A multitude of tiny flowers softly descends to cover the hand of the wearer and gently shimmers as it follows their movements. Tantalising rings of soft and sublime shapes emerge to pay homage to the artistry and craftsmanship of the goldsmith.
Haute Horlogerie
It was in 2012 that the marque expanded its creative endeavours from haute joaillerie to include haute horlogerie when it presented its first jewellery watch collection. Since then, each year has seen Palmiero effortlessly translating its concept jewellery creations into jewellery timepieces and, this year, at Baselworld, Palmiero has again garnered critical appreciation for its dazzling Alter watch and the Tiny watch – part of Palmiero's "Jewels Born out of Dreams" collection.
Alter
Following months of research and design, Carlo Palmiero has conceived the Alter. This unique jewellery watch, with a patented technology, has been completely manufactured in the brand's atelier and is equipped with a Swiss movement. Exhibiting all the creativity and qualities characteristic of a "Made in Italy" brand, the watches are limited edition pieces – fifty pieces in each colour.
True to its name "Alter", the pyramidal facets of the watch turn alternately so that the precious timepiece manifests three different "faces" – a shaded pink sapphire dial, an astonishing white diamond dial, and a gold-diamond numbered dial – a dream to wear on all occasions.
Tiny
Tiny is the new jewellery watch belonging to the Luxury Collection, fully set in the highest quality white diamonds. Boasting a Swiss movement, with Italian design and manufacture, this timepiece sports a squared dial with distinct dimensions ­– harmonious proportions for a look of timeless splendour and elegance.