Bespoke watches from Bvlgari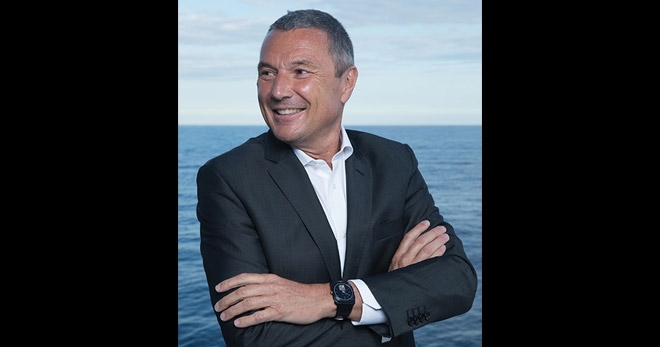 New offerings from Bvlgari in 2017 include the new Serpenti, the extra-thin Octo Finissimo Automatic – a watch that has broken three world records as it is the thinnest tourbillon; the thinnest minute repeater; and the thinnest automatic – and the additions to the Lvcea. "Day & Night" catches up with Jean-Christophe Babin, CEO of the marque, who brings alive the creativity behind the scenes
Q: Can you tell us about the Serpenti Skin ­– how you conceived the idea, implemented it, and the customisation?
A:The central idea was to give power to the client; the client is really central. In watchmaking, we foresee the end product and design accordingly. The client does not have much of an input. Whereas, in jewellery, especially bridal jewellery, the client's input is substantial. We have designed a system whereby you can pick up your laptop or iPad, choose your diamond, the setting that you wish, get an immediate cost estimate, and order it.
Our clients have had this freedom in bridal jewellery for years; now we are offering this to our customers in watches too. Obviously, we had to design a watch for this, suitable in terms of construction. We have designed a watch with a case that can easily welcome different straps and dials, thus making it possible for the client to choose for themselves. This is a built-in aspect of the watch; you cannot do the same on another watch so easily.
It is a matter of designing with client's freedom of choice in mind, then of course, the availability of a choice of straps, designing a configurator that is simple but presents our clients with choices, so that they can decide on the options that work for them. We have an app available on Google and Apple that will allow you to test many options, check prices, and once you have decided, you can register and confirm it. You can then send your order to the boutique, which will call you to set an appointment to confirm the order. It will take the boutique two to four weeks to deliver.
Theoretically, you have 10 to 12 possibilities, but in reality, the choices are infinite. If you use different straps on each side as I have done, it then becomes 12 times more, so you have more than 4,000 combinations.
Q: How cost-effective is it for Bvlgari to offer customisation on your affordable segment of watches, such as the Serpenti skin, rather than the high-end watches?
A:When you get it customised, you pay a higher price as it is 10 per cent more expensive. There is more work involved, but the client is paying more for being unique. We have designed it in such a way that after initially customising your watch on the app, and your product has been processed by us, you have the ability to re-order your straps and create new combinations by yourself. Eventually, it is very cost-effective for the clients also. You can see that I have re-ordered my watch twice while talking to you now.
Q: Tell us more about the Serpenti watches and what are your plans for such an iconic design?
A:We started with Serpenti Tubogas in 2010; we thought it would be constraining because of the technology involved. When we started in steel and gold, it was a huge success. When we started in new materials, such as ceramic, it was again a major success. Again, last year, when we tried to express the snake in a more symbolic manner in the Incantati, it was again a success. What we have learned is that the Serpenti is a concept that can be expressed, if you are creative, in many different ways. The same applies for the jewellery, because the Serpenti is hugely successful in jewellery too.
Q: Can you explain why the Serpenti is so much of a hit in every category?
A:It is perhaps because it is so unique – even if it is just the head of the serpent, or the full body as in the Tubogas, or just the skin symbolised – it fits very well with the bag as a closure, with the watch, as the head of the watch, and also with the jewellery. By nature, the snake is a shape that fits very well with our luxury; many other animals are difficult to wear – a horse, for instance, is not so easy to express.
Q: Can you tell us about the Diagono Scuba in different colours?
A:The Scuba is a great watch for ladies and men; in terms of mood, it is a watch that fits a vacation mood. Because of that, in addition to formal colours like black and blue, we also have other colours. It may not be fitting for office wear, but would be great to wear on a holiday.
Q: Do you expect it to sell more than the traditional black colour?
A:Overall, maybe not. But as I mentioned earlier, it may fit for special locations, occasions, and moods. We are going to be very selective about the locations we sell them, and if we do a good job, they should sell very well.
Q: How is that the Finissimo is becoming thinner unlike other brands that are going in for bigger and thicker watches? Will you continue with the Ultra-Thin?
A:Ultra-Thin is a kind of mission with Bvlgari. When you think of it, what is it that we are bringing as a jeweller to men's watches? Obviously, elegance; because, as a jeweller, you stand for beauty and elegance, and that is why ladies opt for your products. Elegance is the one consistent thing we can provide for men and if you are Italian, elegance means a slim watch, obviously. For an Italian, slimness is symbolic of elegance. As an Italian brand making Swiss watches, we have to deliver the most elegant ever slim watch for gentlemen. And as an Italian, it has to be stylish, not just classical. We found that in the Finissimo movement combined with the Octo shape, we are building a long-term equity as it is the epitome of the masculine Italian elegance.
Q: How much time did it take to develop the titanium bracelet for the Finissimo?
A:The full development of the bracelet took about a year, not very long. An important factor is that we have our own manufacture to make the case and the bracelet. When you have the expertise and the technology yourself, it does not take much time. When you don't have the expertise, it is a long process that involves meetings and trials between yourself and the suppliers. When everything is internal, it is much easier. That is why Bvlgari produces all its dials, movements, and cases internally; we know that it helps in better development in faster timeframes.
Q: Are you under-pricing the bracelet for the Finissimo, in comparison with the alligator strap?
A: The alligator strap is expensive to start with – it has to be for it to withstand a shower of water. The animal itself is expensive and the treatment is even more expensive. Therefore, when you compare an alligator strap to a metallic bracelet, the cost difference is not huge. Titanium itself is pretty accessible in terms of cost; the shaping and working might add to the expense, but as we have very good in-house expertise, the eventual cost is only slightly higher than the alligator strap. It is not remarkable enough to affect the pricing of the watch. When we determine the pricing of a watch, we consider the overall margin, not the margin for each component of the watch; it would be a nightmare if we did that. We consider the cost of making the watch and what to sell it at; you do not consider which component makes less margin and which one more.
Q: Do you see any product lines in which you need to put in more effort?
A: This year, we have done a fantastic job on the Lvcea, the Octo, and the Serpenti. Next year, we have to further develop Bvlgari Bvlgari as it is an equity on which we have not worked this year. We are trying out some new ideas, but not as radical as the Serpenti. In the long term, we need to be more creative.