Bvlgari seduces with Serpenti Eyes collection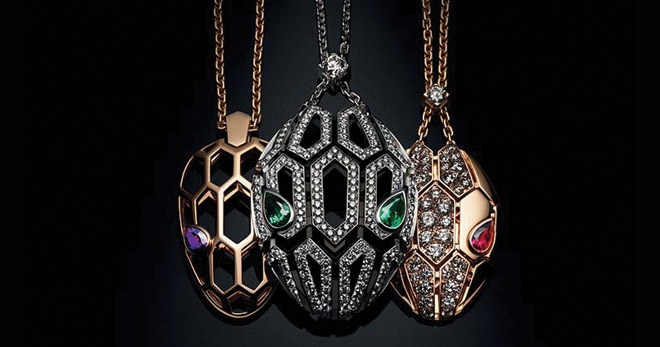 In a tribute to its spirit animal, Bvlgari introduces the new Serpenti jewellery collection, which in 2016, focuses on the power of the eyes
Shining in multi-faceted expressions of seduction, the precious rings, bracelets, and necklaces glorify the "hearts of the head" in jewelled designs that sparkle with desire. Indeed, the gemstone is uncannily similar to the eye: every jewel is as individual as every iris.
Encircling fingers, coiling wrists, nibbling earlobes, and dangling as necklaces, the new Serpenti Eyes on Me collection is as multifaceted as it is innovative. Celebrating the captivating qualities of a jewel – or of the eye – the new designs focus on the penetrating stare of the snake. At the centrepiece of Serpenti design is the precious snakehead, inspired by the 1960s-70s Bvlgari serpents that heralded this dangerous yet hypnotically beautiful element of the animal.
In different interpretations – whether the head bites its tail as it encircles the finger or wrist, or dangles as a pendant – the snakeheads may be sharp or round, flat or three-dimensional, minimalistic or sparkling with pavé diamond. No head is alike, but all are indicative of the Bvlgari distinction.
Reigning over the collection like a queen of the Nile is the Serpenti High Jewellery necklace. Of perfect diamonds and rare emeralds, the snake's tactile body encircles the neck and culminates in a dazzling snakehead centrepiece. From its deep green stare, the piece hisses with gemstone preciousness, and slithers with alternating diamond and emerald scales. Dangling into the décolleté, the larger-than-life snakehead watches all from its precious placement, gazing with hypnotic, resplendent emeralds. Swaying with the movement of the woman who wears it, the woman and snakehead become one, as they watch and move, across the night.
Inspired by its Greco-Roman heritage, Bvlgari began to design using the serpent motif in the 1940s, innovating an exquisite watch to coil around the wrist, while keeping time in its head. The Serpenti was more stylised then, the snake was less of an animal and more of a jewel. The bracelet-watch became a fixture piece in high society, the precious marking of a diva who kept the time to herself.
For decades, Bvlgari's Serpenti has ingeniously employed tubogas for its linked body, the sleek technique coupling exquisite goldsmith skill with the suppleness of the collection. As a labour-intensive form of metal working, tubogas was named for its resemblance to the 1920s Italian car's gas pipe. Its spiralled appearance is produced entirely without soldering and today its versatile, rounded contours form one of Bvlgari's trademarks.
The 1940s snake became the first of the Serpenti collection and, with ceaseless innovation, it has birthed infinitely more variations. Now, the Serpenti has coiled itself into countless renditions of encircling tubogas or leitmotif techniques, coiling various levels of preciousness, or intricate gold work with gemstones. No Bvlgari snake is like another, rendering it into a veritable icon of distinction. Scaled with Bvlgari glamour, Serpenti will continue to live eternal, the emblem of seduction.