Chopard travels down the Silk Road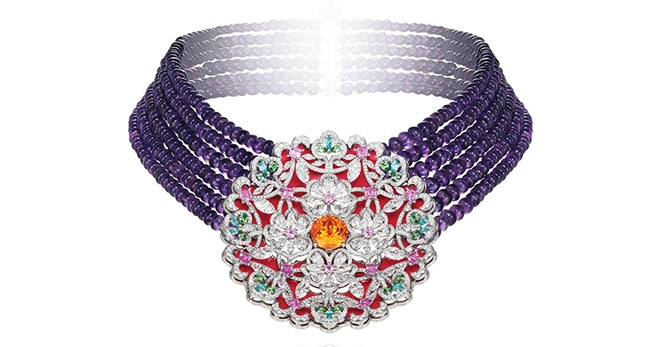 What happens when haute joaillerie meets haute couture? Chopard unveils its Silk Road Collection, a unique High Jewellery collection that is the creative brainchild of Chopard Co-President Caroline Scheufele and Chinese fashion designer Guo Pei
A masterpiece born from the encounter between two women with a shared love of creative design and between two Maisons cultivating exceptional skills; lines and movement, architecture and light, details and majesty are the core principles of the High Jewellery and Couture artistic crafts, exercised at the highest level by Caroline Scheufele and Guo Pei.
Together, they have created a joint collection in which jewellery and apparel meet and mingle to embroider some truly exceptional pieces. Chopard sets the stage for its most prestigious gems, in turn inspiring the most extravagant gowns.
High jewellery and couture
Guided by prolific creativity, a tireless quest for perfection, and an aspiration towards the sublime, Caroline Scheufele has given rise to a vast and opulent collection of High Jewellery themed around a dreamy vision of Asia, in which colours and fabrics weave their magic spell.
It was based on these models that Chinese fashion designer Guo Pei continued the creative adventure, embarking the jewellery on a journey into her own world and putting together a Couture collection tailored to the same high standards. The transition from jewellery to garments is driven by an innovative spirit in which subtle minds, high ideals, and unique talents combine in fashioning extraordinary achievements.
An artistic approach that will be showcased on the catwalk, since the Silk Road collection will be presented at a runway show orchestrated by Chopard and Guo Pei. The collection is a glowing tribute to the grace and movement that bring jewellery to life – and in its favourite field of expression, it lights up women and sets the perfect finishing touch to their elegance.
A creative encounter
It was in 2015 that Chopard Co-President and Creative Director Caroline Scheufele first met the Chinese fashion designer Guo Pei in Cannes, where they discovered a reciprocal admiration for each other's work. These two passionate dedicated artists are engaged in a permanent quest to create exceptional works.
In September that year, Guo Pei took up Caroline Scheufele's invitation to visit the Chopard High Jewellery workshops in Geneva. This occasion sparked the idea of a collaboration between the two, in which a lively dialogue between jewellery and apparel would mutually illuminate their respective worlds.
Since January 2015, Chopard has been a "Jewellery" member of the Fédération Française de la Couture, and is regularly invited to exhibit its creations during the official calendar of presentations during the Paris Couture Week. On her side, Guo Pei became a "Guest" member of the Chambre Syndicale de la Haute Couture in 2016. Two powerful feminine career paths whose destinies are interwoven by shared artistic horizons.
Spectacular creations
Among the most spectacular creations in the collection is an open necklace in blackened silver, white gold, and rubies. Delicately placed around the neck, it opens and then resumes its initial shape thanks to the suppleness and technical nature of the materials. Its two ruby pompons create a spectacular graphic effect.
One other necklace picks up the dainty lacework, stone-cut, and setting characteristics that have become hallmarks of the Maison Chopard: this exquisitely precious, finely crafted ribbon of light creates a stunning effect, setting off the beautiful rose-cut heart-shaped diamonds to their best advantage.
Elsewhere, on other models, unexpected colour combinations offer a new jewellery discourse: diamonds, emeralds, and Paraiba tourmalines – the latter two rarely being combined in jewellery – set the stage for new chromatic horizons.
Alongside its new shapes and new uses, representing dainty stitches interweaving High Jewellery with Couture, the Silk Road collection also reveals the common ground between these two worlds in shaping a silhouette. Witness the diamond lacework Peter Pan collar necklace with its detachable central emerald: perfect lines, candid charm, and a dazzling effect.
Another stellar model in the collection showcases the ever-finer boundaries between High Jewellery and Couture: a gorgeous set composed of a necklace and earrings. Made of aluminium, rose gold, and gems, it is the highlight of the wedding dress designed by Guo Pei and inspired by this jewellery creation.
The collection continues with other coloured gems and with singular materials such as jade; it also provides renewed interpretations of stunning yet essentially intimate objects, such as a "secret" watch topped by an opal cover. A number of prêt-à-porter models round off the collection, expressing the Chopard spirit and aesthetic codes all the way through to the wonderful simplicity of a diamond sautoir necklace and a Happy Sport watch: as ever, excellence lies in details.