Destination Moon with MB&F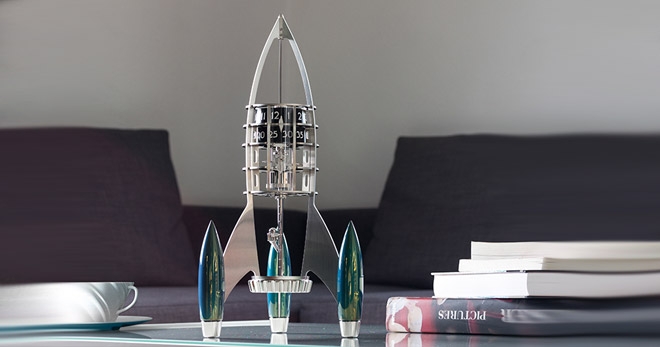 Conceived by MB&F and built by L'Epée 1839, Destination Moon is the quintessential torpedo-shaped rocket of childhood dreams that also tells time
Developed specifically for MB&F's Destination Moon, the architecture of L'Epée's eight-day movement follows the basic design of a real spaceship. Power for Destination Moon comes from the massive crown in its base, which transfers power to the mainspring barrel via the boarding ladder.
The eye-catching regulator is vertically positioned to allow for maximum appreciation and protected from curious fingers behind a panel of mineral glass. The concentric vertical construction of the eight-day movement developed especially for Destination Moon draws strong parallels with MB&F's recently launched Horological Machine N°7 Aquapod: both feature movements comprising concentric vertical architecture and both are powered from their base.
Two aluminium disks with stamped white numerals respectively indicate the hours (top) and minutes as they line up with the streamlined double-ended pointer above the regulator. The time is set by a central knob at the very top of the movement. The stability of the clock is ensured by the substantial weight of Destination Moon's three highly polished landing pods.
In a further tip of the hat to childhood toys and fantasies, the horizontal circular plates in Destination Moon's movement are perforated like Meccano components. Despite its ethereal openwork construction, at four kilograms (nine pounds) Destination Moon is no lightweight: its solid landing pods ensure that it will not easily be knocked off course (or knocked over).
Perhaps the crowning jewel of Destination Moon is the small figure on the ladder at its base: Neil. Constructed of solid sterling silver with a stainless steel helmet and wearing a 1960s-style spacesuit, Neil brings a playful human element to the engineering of the Meccano-style openwork of the spaceship and its clockwork. Neil magnetically attaches anywhere along Destination Moon's boarding ladder. Whether he is embarking to take off for an adventure in space, or disembarking for an adventure on the moon's surface is up to the individual viewer's imagination.
The rocket, which has a height of 41.4 cm and a diameter of 23.3 cm, weighs 4.0 kg and its frame is of satin-finished stainless steel, while its landing pods are fashioned of palladium-plated brass, with PVD coating. Its multi-stage vertical architecture movement boasts a power reserve of eight days.
Destination Moon is available in 4 limited editions of 50 pieces each in black, green, and blue PVD, plus palladium (silver).
Destination Moon is a true collaboration between L'Epée 1839 and MB&F; the base concept originated with L'Epée movement designer and sci-fi rocket fan Nicolas Bringuet, who came up with the idea for the movement's distinctive vertical architecture. MB&F intern-designer Stefano Panterotto came up with the basic shape. The real magic of Destination Moon is that those viewing Destination Moon are each likely to see a slightly different spacecraft: the rocket of their own childhood rather than somebody else's. Space isn't empty; it's filled by imagination.