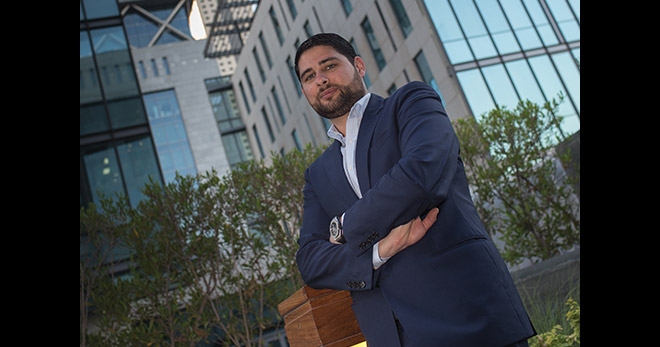 For a marque that is ostensibly focussed on men's watches, Hublot offers a wide range of very creative watches that tease our imagination and entice us. "Day & Night" magazine talks to Marco Tedeschi – Hublot's Regional Director Middle East & Africa, and Creative Manager – on the brand's current offerings and partnerships, and why it is so popular with women
Q: Why is Hublot, which was earlier synonymous with All Black, focusing on colours such as Sapphire and the colourful ladies watches now?
A: Actually, colour is not new to Hublot; we started our colourful Tutti Frutti collection for the ladies nine years ago, and this has been a huge hit with them. But you are right, as we are very strong in our All Black watches. This year too, we have five or six watches in our Spirit of Big Bang line that are All Black, and All Black Diamonds as well.
Q: Will Hublot focus a lot on Sapphire watches in the future as you have done this year?
A: Sapphire has been a very important part of our development and we are proud to say that Hublot today is the only brand to produce Sapphire in large quantities. Last year, we delivered around 500 Big Bang Sapphire watches and this year, it will increase to between 1,500 to 2,000 watches with all our new Sapphire editions.
Q: How has the feedback been for the Sapphire watches?
A: It has been really good as all our clients have been very appreciative, especially this year, as coloured sapphire is very unusual. Also, there has been demand from our very high-end clientele who like to buy very exclusive and unusual pieces, and these pieces are more expensive than the gold watches. That is also one reason we are so successful with our products.
Q: Even though the Sang Bleu was launched quietly, it has been a great hit with different editions. Do you expect it to be a separate or on-going series?
A: We launched it last year and released two editions of it at Geneva – the All Black and the Gold. Now, here at Basel, we are unveiling two versions for the ladies – one with diamonds and the other is a high jewellery watch, priced at CHF800,000. But it will not be a separate line because we believe in the concept of a new way of displaying time on a Big Bang watch and also have different engravings on the case. We are already working with Maxime Buchi, our ambassador and owner of Sang Bleu, on the shapes and designs of new models.
Q: Though Hublot began producing men's watches, you are now producing more of women's watches. What is the percentage of sales in women's watches now?
A: I estimate that around 40 per cent of our sales are by women. Out of this, 30 per cent of these are women's watches while 10 per cent is of men's watches but are bought and worn by women.
Q: How would you feel if, in five years, sales of women's watches outnumbered those of men?
A: I would feel very happy because that is very unusual for a men's brand, as we make watches with big designs and no jewellery. We do not do jewellery nor do we make accessories to be that popular with women. I think we are strong because we come up with new concepts – back in 2008, we started with Tutti Frutti, then we had the Jeans collection, followed by our animal collection with the leopard, and then the Broderie. In every single area, we have something for women. This year, we, with Italia Independent, have come up with the Velvet watches, which have matching sunglasses, so there is always something new for the ladies that they do not find with other brands.
Q: Moving forward, where do you see your collaboration with Italia Independent going?
A: Our collaboration with Italia Independent is an amazing one, because we are working with the brand and the founder Lapo Elkann is someone with a lot of creativity. For me, it is added value when I work with someone creative who is not in our industry. We in the watch industry are creative, but when you bring in someone creative from another industry to help create, then the resultant design hits another level altogether. For example, he had this idea of a velvet bracelet because he was already successful with the sunglasses in velvet, so he thought of matching the watches with sunglasses. Similarly, in men's watches, he is known for having more than 2,000 tailor-made suits in his wardrobe. It was very interesting working with his tailor Luca Rubinacci and being able to select from very old vintage fabrics to use in our highly exclusive watches.
Q: What are the details behind Hublot's partnership with Depeche Mode and how is that they performed at the Hublot party when they rarely do private performances?
A: Like most of our partnerships, it started with friendship and people who like our brand. An important aspect of our partnership with Depeche Mode is that of charity – half of the profits go to the charity: water, which aims to provide clean water in areas where there is no clean water. They have been very collaborative with us in the past and we have a good relationship and that is why they performed at our party two days ago. We are also presenting a limited edition Depeche Mode watch. It is an interesting model because its case is made of ceramic that is fully engraved. It is not polished or sun-blasted but has a pattern on the case and a strap made of leather with spikes, giving it a rock 'n roll look.
Q: How has the feedback been for your new Ferrari watch?
A: It has been amazing; we had been slightly concerned. We have tried to be clever because after selling 20,000 Ferrari watches, we wanted to bring something new and not just a face-lifted version of our existing Ferrari watch. In the end, I think we have come up with something totally great, with a new case, new dial, and everything new. Most importantly, the Ferrari design team has been very much involved in the design of the watch and as I mentioned earlier with Lapo, it is very rewarding when we work with creative people from other industries as they bring a lot of new ideas.
Q: What does Hublot expect from the Spirit of Big Bang line, which started as a one-off watch in small quantities and now has grown to even include a female line?
A: For us, the Spirit of Big Bang is a watch that we want to sell to customers who already own five to six Hublot watches. That is the whole idea behind the Spirit of Big Bang. We wanted to offer something different from the Big Bang and it is named Spirit of Big Bang because it has all the DNA of the Big Bang; it is the Big Bang with a particular shape. The production will remain very exclusive; the idea is not to compete with the Big Bang or the Classic Fusion but it is really the highest-end piece in terms of price range and we want to offer it to our existing customers.
Q: In an earlier interview "Day & Night" magazine had with you in November 2016, you said that you would be releasing a female line of watches in Sapphire. Is this still on the cards and if so, when do you expect to unveil this?
A: We have a lot of projects going on in Sapphire as the demand is so huge and we are working on a ladies' watch. Hopefully, we will unveil it this year and you will not have to wait for Geneva next year to see it.