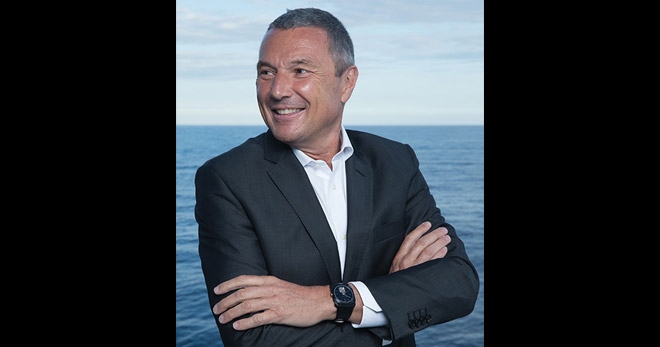 Haute Joaillerie marque Bvlgari has carved its niche in the world of Haute Horlogerie as well, with the unveiling of iconic watches such as the Serpenti, the Octo Finissimo, and the Lvcea, to name a few. "Day & Night" magazine talks to Jean-Christophe Babin, Chief Executive Officer at Bvlgari, on what makes the brand tick
Can you tell us why you believe that people should buy watches for their timelessness rather than their functionality?
Essentially, the function of all watches is to tell the time; high-end watches will give you very accurate time. So what essentially differentiates a watch is the design – not only the case and the dial but the way the movement is engineered because it is here that we have the functional drive as well as the aesthetics. If you look at a watch like the Octo Finissimo, 70 per cent of the movement is dictated by the constraints of the macro mechanical elements put together in a very limited space. Additionally, it is slim with wide faces that enable decorations. It is difficult and complex but you love it because it is beautiful.
When you look at the Skeleton version, you forget the complexity and just focus on the beauty even though it is a very complex movement. That is why, to me, the difference between the brands is the capability to turn great engineering into great aesthetics, which is what we are trying to do in the Finissimo family – from the Skeleton to the Tourbillon, to the Minute Repeater. They are all beautifully done watches, in addition to showcasing the extraordinary technological challenges we undertook for developing those complications.
Why is that when most brands are making bigger watches, Bvlgari is creating world records by making thinner, slimmer watches?
We are essentially jewellers; our obsession is to create more beauty – to contribute to the style, the elegance where they stand out. This goes with the concept of elegance, which when it comes to a man, relates a lot to an elegant watch – a watch that can easily fit under a shirt sleeve and is elegant. In the Octo, we have tried to design a manly watch because the geometry of the watch is extremely masculine and the challenge was to make it ultraslim and provide a gentleman with the same elegance we provide a lady, not with a necklace but with a watch. There is only one other watch brand specialising in ultraslim so there are only two brands investing a lot of creativity into elegant watches when 99 per cent of watch brands are investing in big dimensions.
How is that Bvlgari has been able to create iconic designs such as Serpenti for women's watches and the Finissimo for men's watches in such a short time?
These designs were not born out of the blue; the Serpenti is evolved from Egyptian bracelets brought to Rome by Queen Cleopatra, which led the Bvlgari family in the '40s to the idea of putting a watch on it and imaginatively decorating with jewels. Similarly, the Octo design was something that is very Roman and was already present in the Gerald Genta collections. Eventually we were helped by the fact that it is part of the Roman geometry.
So both the designs are not out of the blue but are part of our history that have been reinvented centuries later. Given our Roman DNA, they are immediately legitimate to our clients. If there is an Octo, it has to be Bvlgari because we are Roman in origin. We have also been consistent year after year in creating on and enlarging these collections.
Though Bvlgari is essentially a jewellery brand, you have been pushing boundaries in watchmaking for a few years now. How much more are you planning to push these boundaries?
Worldwide, both the watches and jewellery markets are equally important to us. We did start in jewellery and so that business is bigger. But the watch business is as important to us as jewellery is because in both cases, the two markets are quite fragmented. Even the leaders in jewellery and watches have a pretty small market share; therefore, we see potential in both.
Obviously when it comes to women, we tend to start with jewels as they are an inspiration, and ladies' watches are primarily beautiful accessories, whereas in the men's watches, especially the Octo, it is a very unique, attractive, and timeless design. As the design traces back its roots to geometry thousands of years ago, in mankind's mind, it is a design that is very familiar to their mind even though it is not common. In terms of familiarity for the eye, you expect to see an Octo but deep in your mind, as it is one of the most basic shapes in geometry, people immediately go for it. This is great for a watch because you need to be unique based on the universal principles of geometry.
How well is your plan to expand your Jewellery Manufacture proceeding?
We were handed over the new Manufacture last month and in December started moving all our equipment from our existing Manufacture to the new one. This is a huge shift and we will reopen in January. If everything goes well, by the second week of January, we will be manufacturing our precious jewellery in the new Manufacture.
Will you be launching new lines at Basel or would you be concentrating more on strengthening your existing collections?
We see in the Octo an infinite platform in terms of creativity, not only in watches but in chronographs or minute repeater. We will eventually deliver a new look though the shape remains the same intentionally. I think that is why people like it and will like it for a long time; because the shape itself is a base for creative development. We should focus more on reinventing and reimagining the Octo because this shape is iconic for Bvlgari the way the Serpenti is for the ladies.
Why is that the Daniel Roth has been side lined though it has a unique shape?
In terms of style and design, some designs for whatever reason become iconic, such as the Serpenti and the Monochrome from TAG Heuer. Occasionally, one design, for reasons hard to explain, breaks through and becomes a global phenomenon. This happens quite rarely; some designs go more positively with the decades and the generation. Some designs are ahead of their time and even today command astronomical prices at auctions. Some designs are too ahead of their time and are lost to oblivion because they are not appreciated. Even though we are conscious of the patrimony of the Daniel Roth design, my personal feeling is that the Octo is a better design – a more universal and contemporary design – that connects well with the younger generation.
When did the Minute Repeater, which you unveiled in Basel last year, arrive in the market and what is the reason for the time lag?
I personally delivered the first one a month ago to a client and now we are delivering four-five pieces a month. The reason for the time lag between our Basel launch and the actual product delivery is because in Basel, we unveil what we call a 'pre-series' version. It is the final version of the watch but not yet tested 360° – functionally, mechanically and aesthetically.
So when comparing the pre-series and the final watch – the pre-series is not meant to last for ever; it is not meant to be waterproof; it is not meant to be shockproof. It is meant to represent the aesthetics and the acoustics that we are targeting for and that we have designed for the Minute Repeater. You never sell the pre-series because they are not meant to last decades, whereas when you start crafting the final piece, you need to be sure about the quality, accuracy and the acoustic quality of the watch. It is not really a different watch but it is a different process and development. That is why between a pre-series and the final watch, there is a time lag of between six to nine months.
As both a watch collector and the CEO of Bvlgari, do you wear watches that are not from Bvlgari?
That is a tricky question. I do wear them when I go to places where I have no official role to play. Out of respect to Bvlgari, if I am going to Dubai where I know many people, I will wear only my Bvlgari watches. If I am going to some lost island in the Indian Ocean where the probability of meeting anybody I know is close to zero, I will take my Bvlgari watches because I love them, but also other watches from my collection. But the fact is, given my business life, 90 per cent of the time, I am wearing Bvlgari.