David Morris, British jewellery at its best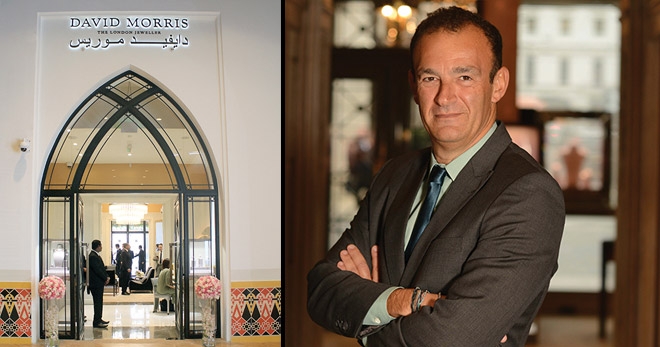 Well-known British jewellery brand, David Morris, recently opened the doors of its first stand-alone boutique in The Pearl-Qatar in Doha with Middle East partners Ali Bin Ali Luxury. Jeremy Morris, Managing Director of the maison, speaks to "Day & Night" magazine on what it means to be the London Jeweller in the world of haute joaillerie
Established over 50 years ago and family-owned for two generations, David Morris is a jeweller with a proud heritage of staying true to its origins by creating fine jewellery with a creative 'twist' and utilising only the finest, most valuable gemstones in a glorious array of colours. With independent boutiques in The Dubai Mall and the Galleria Mall in Abu Dhabi, the opening of the Doha boutique enhances David Morris' presence in the Gulf and follows the brand's annual showcase at the Doha Jewellery & Watches Exhibition.
How did you come up with the name "David Morris The London Jeweller"?
It is because we are synonymous with London; we came from London and we are British. So many companies have taglines, and I wanted one that said something unique about us. We are the archetypal British jewellers – the jewellery is designed in London and we are quintessentially British. It is a good identifier, especially when you go abroad.
What is it that differentiates you as a British jeweller from jewellers of other regions?
It is a matter of different sensibilities; London is the coolest city in the world. Everybody loves to go to London; it has great restaurants, it is green, and it is historic. There is a history of design and creativity in London that is unique.
What has changed since David Morris set up shop in 1962?
There have been so many changes. Every year, there are new things, new economic conditions. When my father started the maison in the early 60s, there was very little competition, but now everybody is a jeweler. Bored housewives, wealthy people starting their own collections – there are so many people trying to make a living by designing and selling jewellery. The market is very competitive; to distinguish yourself as a brand, you need to invest in the brand, advertising, promotion, and creativity. We spend a tremendous amount of money on designing and creating beautiful pieces that are unique.
How do you feel to have seven boutiques worldwide, with one more to open shortly in Saudi Arabia?
It makes me feel very proud; when I came into the business at 20 years of age in the early 80s, my father had four shops in London – the Churchill Hotel, the Four Seasons Hotel, Harrods, and Conduit Street. My vision was to turn it into an international brand like Cartier. My father was against that as he felt that he would not have any control, but now technology has changed things. You can keep track of your merchandise; everything is computerised. The Internet has changed the speed at which you get information and so I can work seamlessly with our manager in Doha, get client preferences, create and send him a design within two days. The world has become so much smaller, literally a small village.
How is it that David Morris has a cult following?
I think our jewellery makes people feel young; the design is young, very feminine, easy to wear, beautiful, and delicate. It has a quirkiness that draws people back; most of our business is repeat clients or members of the same family.
How hard is it to keep up with the competition in the jewellery trade, given the frequent changes in trends and designs?
It is tough to keep up, especially with the drop in petrol prices and the numerous economic changes that have completely transformed the market in the past 18 months. This has enormously impacted what people are looking for, so we had to re-design, re-create ourselves for today's market. The market is there, but not in the same way it was earlier. For example, a lot of people want to buy wedding sets now; there is a big demand for white diamond wedding sets whereas three years ago, people were looking for ruby or sapphire rings.
How is that when other brands are consolidating, you are expanding?
We are expanding but slowly; on an average, we are opening one store a year.
What are your ideas for future expansions?
I do not know because I don't have any plans; I want to consolidate what we have and make sure they are working properly. There is no point in just opening boutiques; each one has to be unique and successful, and managing them is a lot of work.
Is there some market where you would like to establish the David Morris brand?
I would like to do that in the Asian market, but that is a different animal altogether. We have a great affinity with the Middle East; they just love what I do, so we will continue here and wait to see what happens.
How hard was it to create your latest jewellery watch, which is fabulous?
It was quite easy; it is as easy for me to make a beautiful watch as it is to make beautiful jewellery because that is what we do. I have a feeling for it – I have to create something in the right size; I look at what women are wearing and absorb all that information and I have my flair for creating delicate, feminine, and very classy pieces that women love. We have been open here for eight weeks and we have sold four watches already. Personally, I am more proud when I sell a watch than I am when I sell jewellery; you know how many watch brands there are, so it is good when people buy yours. It is Swiss made, perfectly balanced, with very good finish, and I designed that watch myself quite some time ago; all of sudden, it has really taken off.