Montblanc focuses on functionality and innovation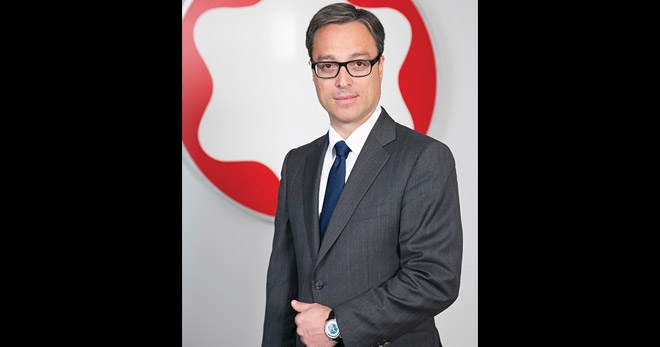 A brand that began in 1906 as a manufacturer of writing instruments, Montblanc is now firmly entrenched as a luxury maison that specialises in writing instruments, watches, leather goods, and accessories. "Day & Night" magazine talks to Nicolas Baretzki, CEO of the marque, on the brand's latest achievements and products
Q: Can you tell us details of the "Pass It On" initiative that is being championed by Montblanc?
A: There are two aspects to this – one is the extremely successful partnership we have had with UNICEF for the past 13 years, during the course of which we have raised $10 million for a specific project that focuses on education. Our partnership with UNICEF will continue because unfortunately, due to increased population, there are more and more children who need to be educated. We were looking at UNICEF figures recently – there are 60 million kids who do not have access to any school, not even primary school, and more than 100 million would drop out of school after 3 years. This is a big issue because it is not just lack of education but being alert, knowing how to behave, how to innovate, how to get out of the cycle of poverty, and how to escape health issues.
In today's world, things are changing fast and social networks are becoming very important. The idea behind the Pass It On initiative was to use the power of the social networks to have maximum impact on people, with the hashtags of #PassItOn, #Montblanc and #UNICEF, in order to promote and expose this initiative to a larger audience that will help us to raise funds faster. We are of course representing a lot of the UNICEF programmes, and of course, when you buy a Montblanc for UNICEF product, you are contributing. But in this initiative, you do not even need to buy a Montblanc product, you can just go to our site, play the #PassItOn story and create more awareness and reach out to a wider audience who may decide to buy this product rather than another one because they can help and this will accelerate the process.
Q: How did you get the idea of creating a digital watch – the Montblanc Summit?
A: We believe that today, the distance between analogue and digital is lessening; we already have a lot of experience in the past, starting with the e-strap three years ago. In this world, you have to be agile and fast; you have to accept that you may fail and you may want to be something else, but the strategy is clearly to say that Montblanc is legitimate and should have a voice and proposal in this world. So we started with the e-strap. Technology may not have been at its best level then; this year we decided that the market is ready for a connected watch and we wanted to be able to offer something to younger clients who may not have or want to wear a watch on their wrist but may still be sensitive to an elegant style and Swiss watchmaking concepts but may not have any interest in the main part of the watch – the movement.
Therefore we wanted to work on an initiative where we represent the best of Swiss watchmaking – such as casing, sapphire glass, and all the other codes of watchmaking – with a digital face. Going one step further, this is actually one way of getting people to discover the Swiss fine watchmaking segment. We decided that we would not use any of the faces that we have in our collection but would go vintage – back to our roots of what is watchmaking to Montblanc. So even though it is a digital watch, it also references to the roots of fine watchmaking.
Q: Is this one way of getting the younger generation to get to know and appreciate the brand?
A: It goes beyond the brand; it is also showing that the luxury maison can be vocal in a world where they may not expect a luxury proposal. It is also a way for them to discover this luxury world and realise that it is not a brand only for their parents and can also be relevant to them. If Montblanc is the one that offers an interesting proposition to them, hopefully they will continue and follow the maison in the future.
Q: Montblanc, though it started as a creator of writing instruments, has now diversified into watches and leather goods. What share of its total sales will be held by writing instruments in the future?
A: It is not a question of share or percentage; I believe that all categories of Montblanc's products will continue to grow in the future. The question is if there will be faster growth in some segments. It is no secret that today leather is a very popular segment for the males, and increasingly men want to go for leather goods with more functionalities. I see a lot of people wearing backpacks; there is a mix of luxury, casual, and style coming together. Obviously, we can expect faster growth in that category, but on the other hand, what we do in the writing instruments segment is all based on high artistry, are all limited editions, and are very exclusive pieces, such as animating the Meisterstuck; that category is still growing. So we should see Montblanc as a global luxury brand that people can appreciate for themselves. I anticipate all these segments to grow.
Q: How important is the watches segment in the Montblanc universe?
A: Watches, for many years now, has been an important point of focus for Montblanc. We are developing a lot of new novelties every year. We are investing a lot in communications, promoting a lot of categories, and it is also a strategic category where we can express all our capabilities, our craftsmanship, our high standards of horlogerie, and it also represents the maison very well. When you have a watch like mine – an 1858, with a beautiful movement – it is an amazing expression of what Montblanc is about. It is an important segment for us but, I reiterate, we have many categories and each category is crucial to the maison. Maybe we are communicating more on our watches but that does not mean that we are not spending an amazing amount of time on developing our new leather, new functionalities, new innovations, new materials, and so on.
Q: Will digital be the fourth pillar of Montblanc, after writing instruments, leather, and watches?
A: For the time being, I see it more as a continuity of every pillar; in the watches, we have the e-strap, and the connected Summit watch. In the writing instruments, we have the ScreenWriter and now our latest innovation, the Augmented Paper. In leather, a year ago, we introduced a device that tracks down your luggage. There will be more evolutions; that is why I see it as extensions and proposals of all categories. It is not one category by itself but an expression and another way of representing a category.
We also have accessories, and men's accessories is an important category in many markets. I am speaking of cufflinks, bracelets, etc. Even eyewear and fragrances are important categories because they speak to a larger audience. That is the beauty of Montblanc; we have a lot of expressions and that gives us a lot of opportunities to test and be a little bit more daring, and have some kind of a disruptive approach as long as we are clear of who we are and what is meant by a Montblanc product. There is no problem in keeping the pioneering spirit alive in Montblanc.
Q: Why have Montblanc's recent products suddenly begin to draw on the Retro style?
A: I would not call it a 'sudden' interest; what we have always done as a luxury maison is to look to our history and very often our best products are inspired from what used to be in our maison. If we take last year as an example, when we re-launched the Rouge et Noir Heritage writing instrument, which is a replica of a 1920s writing instrument, it was an amazing success. I think the market also expects this kind of a retro style; there is big interest in vintage items – in vintage jewellery, cars, and so on. It is a legitimate move for Montblanc to explore this vintage approach in the watch segment. Having all these amazing designs, dials, and movements from the beginning of the 20th century, we realised that this is a huge library of resources that we need to explore and use to present new products. It is a very clear path that we have been following for the past few years, not just the past few months.
Q: How does Montblanc balance the style needs of its younger customers with the high level of quality and price of its products?
A: Of course, all of us want to attract younger customers who will be with the maison for the next 20 years, but at the end, it is also a question of functionality and user groups. If we are talking of leather, I will not comment on quality and how you can be creative and innovative in leather. We are not a fashion maison, so we are not launching a backpack every year; that is not the point. It is more a question of functionality – why are you using your leather: Is it for business? Is it for casual use? For sport, weekend, or a more casual trip? There are a lot of opportunities and segments that we can explore.
The other point is that we have been working a lot on the functionality of the product. We have been working on small leather goods, such as belts, and some large leather goods – mostly on the formal business goods. There is a huge market today for cool, casual, large leather goods, and Montblanc should definitely be present here. We are working on all these functionalities and innovations of leather goods: backpacks, camera bags, or reporter bags.
Talking about innovation, I have here our new leather proposal – the Extreme Rucksack. I am an inveterate traveller; I go from hot and humid markets, such as India and Dubai, to the cold markets such as winter in Korea, or the rainy market if I am in Hamburg. The rucksack has the kind of texture that can resist water, scratch, fire, and so on. I not only have something beautiful but something useful. We have just started exploring a small part of the whole 'leather for male' segment and, in fact, there is so much more that Montblanc should be doing, is doing today, and will continue to do in the future.