The Jurassic Watch from Louis Moinet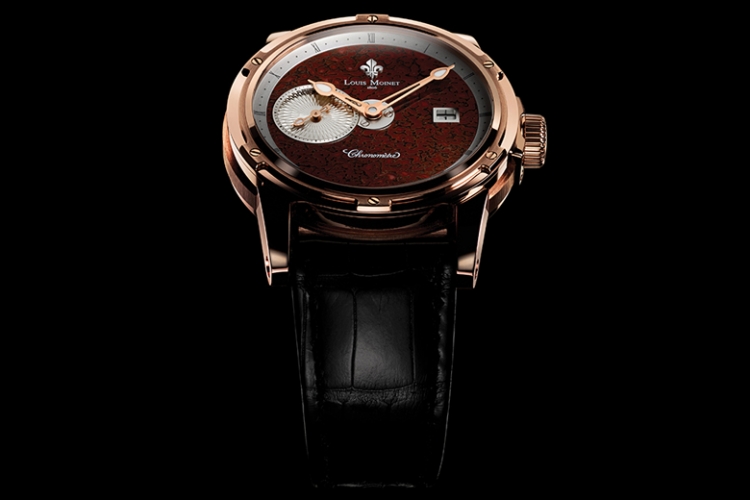 Derived from the Mecanograph family, the Jurassic Watch is the first to feature a dial made from a Jurassic-era dinosaur bone – between 145 and 200 million years old
Famed for its beautiful, unusual, and exceptional watches, the latest offering from the maison of Louis Moinet is no exception. On its Mecanograph City watches, Louis Moinet was the first to include fragments of lunar meteorites and other rocks from the far-flung corners of the universe, while the Treasures of the World collection has dials made from rare, fossilised stones of mineral or plant origin, including petrified exotic wood.
Combining these two approaches is the new Jurassic Watch, with the certified Mecanograph chronometer at its mechanical heart. This proprietary movement, exclusively developed by Ateliers Louis Moinet, is housed in a 43.5mm case made from rose gold, with the date at 3 o'clock and the seconds hand at 9 o'clock on the dial with a concentric Clou de Paris pattern.
A limited edition of 12 watches, the Jurassic Watch boasts not only extraordinary precision, but also a dial made from a genuine fossilised 150-million-year-old dinosaur bone. It also uses the exclusive Energie Plus process unveiled by Louis Moinet at Baselworld.
Specific craftsmanship is vital for the production of each dial. It begins with the choice of the right stone; this needs to be sufficiently dense to be worked on, taking into account its final size and texture. The ensuing handiwork takes over a week – and results in a dial thickness of just 0.65mm.
The dinosaur bone in question, discovered in North America, has been authenticated by renowned geologist Dr Andreas Stucki in association with the Aathal Dinosaur Museum in Switzerland. The dinosaur bone is from the family of large herbivores, which also includes the Diplodocus.
Water resistant to 50 metres, the watch boasts a power reserve of 48 hours. The 18k rose gold case – 43.5 mm in diameter – is offset by a hand-sewn Louisiana alligator leather strap and an 18-carat pin buckle.